Invisible Hand's Debut Album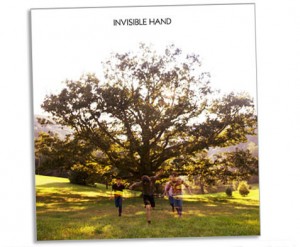 "Two chords / How are you? / I have not heard from you in a long time / Not since I started to play my guitar were you so interesting" begins Charlottesville, VA rock band Invisible Hand's debut album, Invisible Hand, with the aptly titled track "Two Chords." Before releasing the weight of a grandiose wall of reverb and a hypnotic drumbeat, the album's opener begins with muffled feedback and the intimate crooning of lead singer/songwriter Adam Smith on top of sparse guitar pickings. Waxing nostalgia on simpler times, "Two Chords", in the spirit of "What's In It For Me?" by The Walkmen and "Crime Scene Part One" by The Afghan Whigs, sets a dramatic tone for the hyperactive, fist-pumping power-pop record to come.
Adam Smith and his Invisible Hand have been producing some of the best punk-laced pop gems and quietly experimenting with home-recording under the radar for the past four years; hitting their stride off a series of split 7″ EP releases with Naked Gods (Boone, NC), The Alphabet (Harrisonburg, VA) and Borrowed Beams of Light (Charlottesville, VA). With the Funny / Not Funny Records release of Invisible Hand, the band is ready to expand their devoted-listener base.
Beginning as a nebulous side-project from Smith's normal night gigs as the bassist and guitarist of fellow Charlottesville acts Order (of the Dying Orchid) and Truman Sparks, the Invisible Hand roster ebbed and flowed throughout its early moonlighting years of incarnation. The band often performed unannounced before Order sets; pummeling the audience with a barrage of fuzz and sloppy Kinks-influenced goodness with Smith blasting a Fender Texas Special Stratocaster through an octave pedal pushed simultaneously through a bass and guitar amp.
After touring as a "side project" in 2006, the Invisible Hand personnel lineup was solidified to include Adam Brock (drums, ex-Nice Jenkins), Jon Bray (guitar, ex-Truman Sparks) and Thomas Dean (bass, Order). Anchored by a 1960s-influenced garage rock sound, Smith's cherub-faced choirboy vocals and the band's adrenaline-fueled live act were quickly welcomed by the Virginia indie-rock community and eventually became the members' full-time project.
"The new voices took the songs where I had always envisioned them going," says Smith. "With everyone on board with a common goal, it's helped the creative process. Stylistically, we now have the chance to make fleshed out pop songs."
Dean's bouncy basslines and two-step dancing adds a vibrancy and playful robustness to the once simple guitar/drums structure. In contrast, Brock brought an aggressively determined backbeat to the table. The rhythm section works together as perfect foils for one another, allowing Dean to fearlessly glide up and down the fretboard with Brock keeping the tempo deliberate and reigned in with a touch of rambunctiousness. The pulsing rhythmic backbone sets the scene for Smith's clever songwriting and Bray's mercurial, finger-ripping rhythm and soul guitar playing.
Musically, the band cites influences from decades past, including Velvet Underground, The Box Tops and The Kinks. With big choruses and fretboard theatrics, Invisible Hand is more reminiscent of Born To Quit-era Smoking Popes coupled with the calm, collected lyrical desperation of The Wrens. Standout tracks include "There's Room in My Will," which could of easily have been left on the cutting room floor during The Replacements looser glory days, and earsplitting "Four Seasons"; a would-be perfect companion to the 1995's ahead of it's time slop-pop "Piss Bottle Man" by Mike Watt.
The shining moments on Invisible Hand occur, through time-hardened confidence of playing music with each other, when the band actually performs their best when at their loosest. For example, the lumbering haze of "Coy Trap" feels like it could fall apart at any moment amidst a mountain of starts, stops and guitars but that uniqueness is what sets the band apart from their contemporaries. Invisible Hand is certainly capable of recording a tight song, as evidence by the arena-worthy anthem "I Caught Twenty-Two," yet with "Coy Trap" and "Vegetables", the ambling arpeggios preceding tightly wound choruses leaves the listener affected and pressing the repeat button.
Invisible Hand expands upon the band's already well-developed talent for crafting a song by adding lush orchestration; enlisting the assistance of Charlottesville musicians Howard Arnn (cello) and Gabriel Cooper (violin). Taking full advantage of White Star Sound's recording studio, producers Chris Keup and Stewart Myers, along with Invisible Hand, created a harmonious environment to attempt new tricks in the band's repertoire. Luminous string arrangements twist and weave throughout the album, adding new depths of character to the Hand's favored canon of charming classics. While boldly adopting this dynamic approach and reinventing certain tracks such as the string-heavy "I Want to Win" and carnival sideshow-esque "This Morning", don't expect the album to sound like a Glen Ballard-influenced homage to jagged little pills.
While executed masterfully, the album was no simple task for the band. A year in the making, Smith scrapped nearly all of the tracked guitars on the entire album at one point and re-recorded the guitars before, ultimately, going back to the original set of guitar tracks. "It was a difficult process for me because I felt there was a lot of pressure to make something good," says Smith. "It was interesting because I built up [the studio experience] in my head [before even entering the studio] and eventually I became relaxed and we were able to take advantage of a lot more things that we wouldn't have in my house."
Sure, alienation, regret and anxiety are all expressed throughout the album but the Hand is skilled at glossing over the sordid with the sugar. The album offers 12 addictively timeless songs; boasting a dreamy voyage through youthful hopefulness and longing. "Once we got the final mix back and listening to it driving around with the windows down, I felt really good about the final product and thought the album was the perfect summer album….even though we're releasing it the winter," adds Smith with a laugh.
- Bio by Jeff Byers
 
Press Quotes:
Interview: "If The Invisible Hand makes it, how will they get there?" (C-Ville, Charlottesville)
Interview: "Checking in with Adam Smith" (C-Ville, Charlottesville)
Cover Story: "Behind the Local Music: 12 bands to watch in 2010″ (C-Ville, Charlottesville)
"The lead singer's captivating showmanship was spellbinding. It was easy to see why the audience loved them so much." – Magazine 33
"Remind me a bit of of Montreal by way of Superchunk or The Clean." – Brooklyn Vegan
"Whatever it is they're doing, I'm digging it." – Brooklyn Ski Club
"Think The Kinks with a country twist. Always a good time." – The New Gay
"…floating in-between greatness and being severly underrated." – Brightest Young Things
"…their sound is slightly familiar yet fresh and exciting." – FensePost
"Smith's got a knack for indelible hooks…" – Nail Gun Media
"A happy accident to stumble on, and a band to keep track of without a doubt." – The Creative Intersection