Bio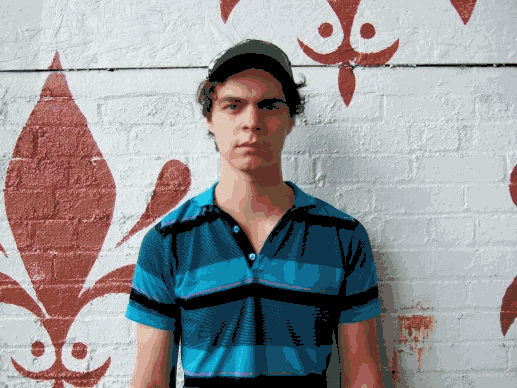 After recording his first album at the age of 14, Adam Smith formed the band "Folkskunde" (loosely translated as "the people's client") and at age 16 began playing live. "Folkskunde" mixed contemporary styles with a Kinks and Beatles aesthetic, creating a young, original sound. As members of the band left to attend college, Folkskunde attempted to reunite on holidays and then in 2003 disbanded. Smith, who was already in the throws of recording his second solo album, began to produce his music projects under the moniker "Invisible Hand."
Expanding and contracting in size from as many as eight musicians to as few as one; "Invisible Hand" shows consistent intensity. Smith's lyrics are impassioned, ironic, appropriated and everyday- woven into heavy melodies that are as unusual as they are catchy.
Playing live since the age of 16, Smith has gained reknown for his sharp songwriting abilities and raw performance style. He's played with The Extraordinaires, Donny Hue and the Colors, and Lux Perpetua, as well has opened for Mogwai, Man Man, Health, Adam Green, Vivian Girls, Awesome Color, Titus Andronicus, Skeletons and the Kings of All Cities, Sunburned Hand of the Man, Meneguar, Jay Reatard, The Constantines, The Thermals, Real Estate, Whatever Brains, and soon, Best Coast, and Cloud Nothings.
While producing his "Invisible Hand" solo and collaborative albums, Smith joined "Order" (previously "Of the Dying Orchid") as a bassist and keyboardist. He traveled on a few tours up and down the east coast before deciding to form another band of his own, with a distinctive "genre." Thus, "Truman Sparks" was born. The members of "Truman Sparks" came from a wide musical background of rock, punk, eclectic pop. The initial goal was to experiment with hardcore because nobody in the band had ever explored that genre. This resulted in a unique amalgamation of style that sounded like "Pavement trying to cover King Crimson" so they were dubbed "a slackers prog band" or in their own terms, "Trog-Rock."
Several tours ensued and Smith produced a full album and one EP under the "Truman Sparks" moniker. Smith also continued to crank out "Invisible Hand" albums. "Invisible Hand " began touring as a "side project" in 2006.
As Smith's musical taste began leaning toward the "Invisible Hand" solo recordings, favoring the subtleties of a simple two minute song over the complexities of "Truman Sparks" 8 minute epics, he inverted the roles of the two bands. Today "Truman Sparks" is the side project and the "Invisible Hand" is Smith's primary focus.
The now "Adam Smith's Invisible Hand" has self engineered and produced two full length LPs: "Down with Friends" and "Sleep" available at Record Theory (http://www.recordtheory.com/artists/invisiblehand) and an EP titled "4 Seasons" along with a split 7″ with "The Alphabet" available at Funny Not Funny Records (http://funnynotfunnyrecords.com )
The band has played hundreds of shows throughout the east coast and as far as SXSW. They play regularly in NYC with supportive fans coming to see them at such places as the CakeShop and Bar Matchless, all around their home town of Charlottesville, Richmond & the Shenandoah Valley stretching south to the particularly frequenting North Carolina where they have amassed a loyal following.
In addition to the up-coming April 13, 2010 launch of the theme song to the new BRAVO series "9 by Design", Adam Smith's Invisible Hand has just completed recording and mastering a full length LP which will release on November 6, 2010 year and are completing a slew of new home recording singles which will see 7″ releases within in the next few months.
 
Current Projects
Invisible Hand
Great Dads
Double Complete Rainbow
Lunatic & the Rascal
Past Projects 
Truman Sparks
Articulate Chewbacca
No Face
Discography
Faces (2001)
Teenage Girls & Medicine (2003)
Captivate and Destroy (2004)
A Poorman VS. the Fleshpots of Egypt (2005)
Adam Split: No Face/Invisible Hand Cassette (2006)
New Twist (2007)
Invisible Hand Cassette (2007)
Down With Friends (2008)
Four Seasons EP (2009)
Invisible Hand/Alphabet Split (2010)
Invisible Hand S/T (2010)